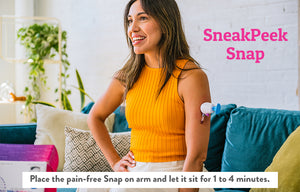 SneakPeek Early Gender Test
Blood Test Gender Reveal starting at 7 WEEKS! This Snap process is pain free and fast! You have the option for next day or two day results! 
After purchasing, call us at 318-807-4618 to book your appointment for this test! 
A breakthrough push-button device that makes your gender blood test a snap!

SneakPeek Snap microneedles are just the width of a human hair, 1/5 the width of the lancet blade. The microneedles only reach the epidermis, where there are fewer nerve endings, so virtually no pain is felt with SneakPeek Snap.
This package comes with an ultrasound to verify the weeks.
---
We Also Recommend