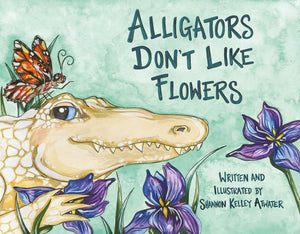 Alligators Don't Like Flowers Book
Angelo the alligator was different in every way. With eyes bright blue and skin snow white, he
loved to watch the butterflies and fireflies. One day he came upon a marsh filled with flowers
and wove some into a crown. What happens when he wears his beautiful new crown?
Artist and illustrator Shannon Kelley Atwater shares a sweet story of friendship and
community celebrating the differences that make individuals special and overcoming the
stereotypes that separate them. Her expressive illustrations capture the feelings of friendship, joy,
and--sometimes--alienation that children experience in a story that provides a valuable lesson
of acceptance. When the swamp friends unite in a procession that rejoices in the things that make
them unique, something truly magical occurs. Come along and join their parade!
---
We Also Recommend